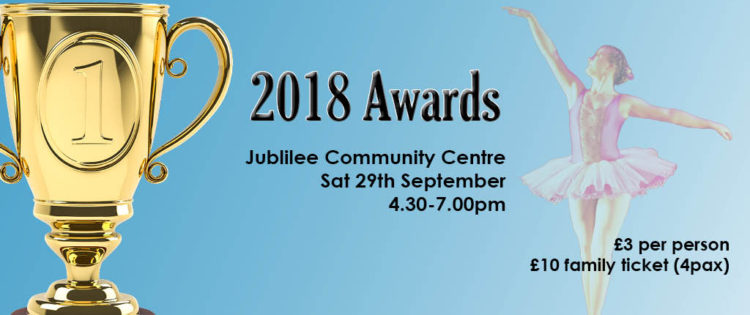 SHOWCASE & PRESENTATION OF CUPS AND AWARDS
Saturday 29th September 2018– 4.30pm
Jubilee Community Centre
Dear Parents, as there has not been a lot of interest in our advertised Fund Raiser for next Saturday we have decided to refocus our fundraising efforts in this Show year commencing with Cups & Awards, with Afternoon tea. Subsequently the Fundraising team will be organising a major parents only fundraising evening in the spring, along with our termly Non-Uniform days. Watch this space and website for details as your support is needed to reach our £12,000 target!
Showcase
We will be presenting a short Showcase of a few chosen pieces from classes and Festival Work of the various genres we have within our curriculum. This will take place as previously advertised at Jubilee Community Centre Charlwoods Road commencing at 4.30pm with an Interval for Cream Teas & Cakes and a Silent Auction provided by my terrific parent supporters as part of our Fund Raising for the Show 2019.
Ticket prices £3.00 per person £10 Family ticket. If anyone can help the "A" Team on the day or make cakes please let me or Sam know. This will then be followed by the rest of our 2018 Prize Giving with the event finishing at approximately 6.30/7.00.
Cups & Awards
For those parents who are not familiar with our Prize Giving, there is an award for 1 child in every class, who my staff and I consider have made the most "Progress" throughout the past academic year. There are also Special Awards for Neatness, Musicality, Personality, Expression and even Theory! I do hope that as many of you as possible will attend to support and applaud those children who have been successful.
There are still some cups & awards outstanding from last time please can you return them clean no later than Wednesday 26th September to avoid the next recipient being disappointed.
Please see over for the Classes/Festival pieces I would like to take part. If your child is willing to participate, please email Sam ASAP so I can confirm numbers.
I'm sure it will be a most enjoyable and successful afternoon as we celebrate the pupil's great achievements from this last academic year!
Thank you in advance for your support, looking forward to seeing you there!
Kindest regards,
Kay Ball
Classes to be involved/Programme
Ballet
Grade III Ballet – Tuesday 4.45-5.30
Grade IV Ballet – Tuesday 5.30-6.15
Festival Solo
Cups & Awards
Modern
Grade 1 Modern Saturday 1.00-1.30
Grade 3 Modern – Saturday 12.15- 1.00
Festival Solos
Cups & Awards
Interval for Cream Teas & Refreshments – Silent Auction bids
We have a fantastic array of auction items on offer, from Hamiltons photos to singing lessons to restaurant vouchers, so please come prepared to bid for these, keep an eye on our Facebook page for details
Greek
Junior Quartet
Inter Trio
Festival Solos
Cups & Awards
Tap
Primary Tap – Wednesday 4.00-4.30
Grade 5 Tap – Friday 3.45-4.30
Advanced 2 Tap – Friday 6.45-7.30
Cups & Awards
Musical Theatre
Class – Friday 5.15-6.00
Cups & Award
Special cups and awards