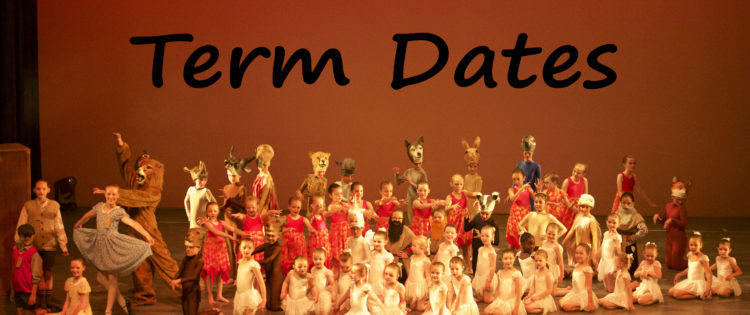 Summer Term – 10 weeks
Saturday 27th April – Monday 22nd July inclusive
There will be no classes on Monday 6th May (Bank Holiday) These classes will be made up on Monday 22nd July.
Half – Term Monday 27th May – Friday 7th June inclusive (2 weeks)
There will be NO classes Saturday 25th May due to the bank holiday and a number of students being absent.
Half term runs for two weeks.
A reminder than Miss Fleur has a makeup class for Grade 5 Ballet and Senior Ballet on Monday 3rd June.
Miss Jodie's classes resume on Saturday 8th June (a make up class from 18th May)
Miss Kay has now offered to also run classes on Saturday 8th June also.
10.00 – 10.45:    Grade 4 Ballet
10.45 – 11.30:    Grade 2 Ballet
11.30 – 12.15     Grade 3 Ballet Characters
12.15 – 1.00        Junior National
1.00 – 1.30          Grade 1 Modern
Dates for Show 2019
20th / 21st All weekend rehearsal – All Students required
22nd / 23rd / 24th – lessons
25th July – Dress Rehearsal
Fri 26 – Sat 27 July 2019 – Performances
Dates for Show 2021
Thurs 22nd- Sat 24 July 2021
Here is a link to the Redhurst Calendar for you to bookmark: Calendar.
If you use Google Calendar it is even easier! Add the Redhurst calender to your own.
---