Sarah Redford
Starting at age 3, I danced with Redhurst for 16 years, catching the performance bug which led me down the theatrical path I now take!
I am currently studying BA Theatre at Lancaster University where I cover a variety of modules, including Modern Dance. I joined the university's dance society LuDans at the freshers fair in the very first week of term which allowed me to continue my passion for dance developed at Redhurst by taking classes in Tap, Contemporary, Jazz, Musical Theatre and Ballet. The society puts on an annual dance show which is a great experience, taking me back to my Redhurst Show days!
I am also an active member of the Theatre Group LUTG, allowing me to satisfy my performance bug many times throughout the academic year! I have taken part in Fame and a mini-musical version of Chicago, and look forward to our next full production musical of Legally Blonde! I have also kept up my singing by performing at the University's Varsity opening ceremony, the graduation ball at Blackpool Tower and as part of the show Lancaster Offshoots took to Edinburgh Fringe.
Redhurst has not only taught me dance technique and performative qualities which I carry through in my line of study, but it has also allowed me to form lifelong friendships with the girls and guys I competed, sweated and spent the vast majority of my week with! Giving me confidence to continue my passion, Redhurst was one of the best environments I ever learnt in and is always a friendly face to return to.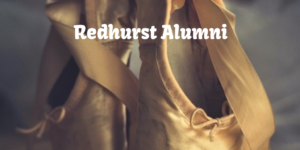 Save